Premium Bathroom Renovators

with options to suit every budget
Online Quote within 48 hours
Provide measurements, an image or two and what you'd like
done and we'll provide a very accurate estimate.
Submit Details
Free Onsite quotes
Get the best advice in the comfort of your own
home, leave all details to us!
Book Onsite Quote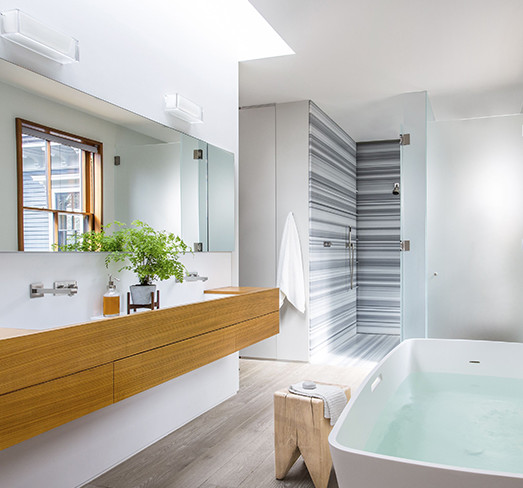 Sydney's Best Bathroom Renovations & Bathroom Designs
Whether you are looking to renovate your bathroom, ensuite, powder room or laundry, you can rely on Custom Bathroom Renovations Sydney to personally with you to create a room that is tailored to your taste and lifestyle. We use only high quality licensed trades and our company has over 30 years extensive experience in waterproofing. Pair this guaranteed quality workmanship with high quality bathroom ware from one of our many known and trusted suppliers, and you have some of Sydney's most seamless and successful bathroom renovations.
We have teamed up with Reece Bathrooms Wetherill Park, Beaumont Tiles Wetherill Park and Ostar Bathroom Ware Sydney to offer a great variety in style with bathroom renovations to suit every budget. Choose from the selection of bathroom ware packages or tailor your own package and get started with the premier bathroom renovations Sydney company today.

Bathroom Renovations in Sydney
At Custom Bathroom Renovations Sydney, we know that there are many jobs that need to be done in order to complete a bathroom renovation in Sydney. That's why you can rely on our experienced team to provide you with a range of different services, including:
Design
Demolition
Waterproofing
Draining
Plumbing
Electrical
Ventilation
Painting & Tiling
Heating
Installation
Rubbish Removal
Cleaning (Upon Completion)
If you'd like to learn more about our team can help you with high-quality bathrooms renovations in Sydney, give Custom Bathrooms Renovations a call on 1300 793 220 today.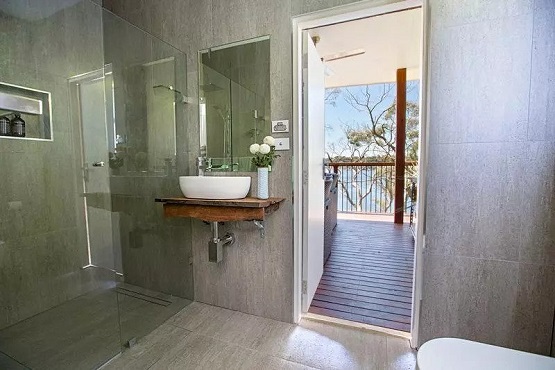 Some of our recent bathroom renovations projects in Sydney
What our clients are saying
Read what some of the many satisfied Custom Bathroom Renovations customers have to say:
I highly recommend the whole team at CBRS. From the beginning through to completion we found our bathroom renovation to be an extremely pleasant, efficient and stress-free experience.

Jayde Williams

-

Loved this company. Very professional from quote to last panel. The guys were very friendly and took time to listen and answer questions. Resolved any problems that arose through consultation and offered good advice. They arrived when they said they would and also worked long hours. The renovation was completed on time and I am very satisfied with all aspects. Would very highly recommend them.

Kate Hunt

-

Phil and the team of professionals were always on time, on site and working to get our bathrooms finished. The quality of work and commitment to get the job done has been excellent. Highly recommended team of tradesmen.

Richard'n Jacqueline Whipp

-

We found your company to be always: Helpful, always prompt on time, gave good advice in regards to design, always rang us in advance to tell us who or what was happening in the coming days, friendly and always went out of your way to make sure that we were happy with the jobs that you were doing. Very happy with our new bathroom. Thank you Phil.

Nick

-

St Marys

I had Custom Bathroom Renovations completely redo both of my bathrooms and they did a terrific job. They were easy to deal with and left the place spotless. I will definitely use them next time.

Tom Chatterton

-

We recently had our bathroom renovated. The work was done to replace an existing bathroom which was 21 years old. We received professional advice and opinions, which helped us in completing our renovation. The staff are friendly and seemed highly competent. The job was completed with a rate of 100%. We are pleased with the final product and we would have no hesitation in recommending them to anyone.

Elaine & Warren

-

I recently had my shower repaired in the main bathroom. We were unaware as to what was required and the help and advice we received was endless. The shower was repaired and the service was excellent. A very professional team.

Mark & Mary

-

I had received various quotes and information regarding our bathroom renovation, and I wasn't convinced it was the best option, until I met the team from Custom Bathroom. I was given great advice along with design help so I was completely aware of what to expect. When the job was finished my expectations had been surpassed ten fold. I am very happy and definitely made the right choice.

Luke & Angie

-

Hi, just a quick note to say how pleased we are with your work. We didn't realise how bad our problem was until you come out to inspect the job and provide us with a free quote. The leak in the ensuite is fixed and the job was completed with little disruption to our day to day life. Thanks guys, great job.

Julie Grey

-

Many thanks Custom Bathrooms for a tremendous job done. You gave us the best price and you know the old saying, "You get what you pay for". We discovered this in our case. Great work and should the occasion arise we would certainly use you services again.

Claire & Tom Walker

-

I was initially confused about what design would best suit my house. After a friendly and detailed discussion with Custom Bathrooms I was able to make an educated decision on what I wanted and what was the best choice. My bathroom looks fantastic and I am glad I chose you and would certainly recommend them to anyone.

Joe & Nancy

-

We had just purchased a house and it needed a little work to be done in our bathrooms. As we had just spent all our money, money was not something we had a lot of. With the help of Custom Bathrooms we renovated both bathrooms on a budget and are really happy with the outcome. I don't have any hesitations in recommending Custom Bathrooms to anyone.

Mick & Ashleigh

-